Hydro Trike - Umbilical
Built in accordance with the highest quality standards
At Vervaet, we believe in the added value of quality and the power of simplicity. Why? Because our products originate in our contracting firm and we listen to the feedback and requirements of our customers. Together with our innovative character – we invest almost 10% of our turnover in research and development (R&D) – we develop the best-performing and most profitable machines on the market for you.
This is why you opt for a self-propelled machine
Continues where others stop
Capacity along with soil-friendliness, efficiency and accuracy
Would you like to use sweep hoses and your Hydro Trike or Hydro Trike XL more broadly, without making concessions? Do your customers have less sustainable soils and is soil-friendliness a prime concern? Then the Vervaet Hydro Trike – Umbilical version is the ideal expansion of your services. In combination with the manure pump, the 6 m3 buffer tank ensures absolutely precise dispensing, while the cutting device prevents blockages. There is no pressure drop in the supply and discharge hoses of the clever system, as the buffer tank operates entirely without pressure. Moreover, you don't need a special sweep hose fertilising machine because the Hydro Trike works with any make and type of sod fertiliser. This provides significant savings when purchasing the fertilising unit.
With only one wide wheel per track and, optionally, a pressure exchange system perfected by Vervaet, the Hydro Trike is extremely soil-friendly. This means that, in a wet spring, you can get on the field with a tractor and Umbilical fertilising unit earlier than your competitors, so that your customers' manure wells are empty earlier.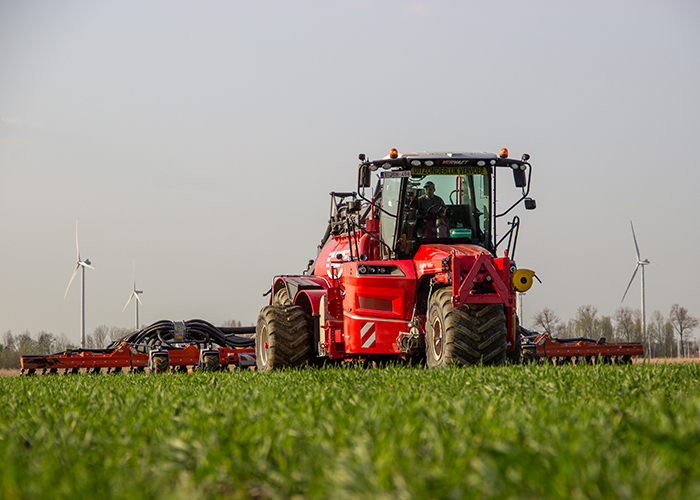 Cab
What every good driver deserves
An optimal and comfortable working environment
A professional self-propelled manure processor is nothing without a professional driver who can work comfortably for hours on end, if need be, without becoming too tired. That's why all Vervaet self-propelled machines, including the Hydro Trike, are furnished with the most modern, luxurious and spacious cabs with a large area of glass. The controls for the entire machine are within easy reach: the gear lever and the terminal are located in the adjustable armrest.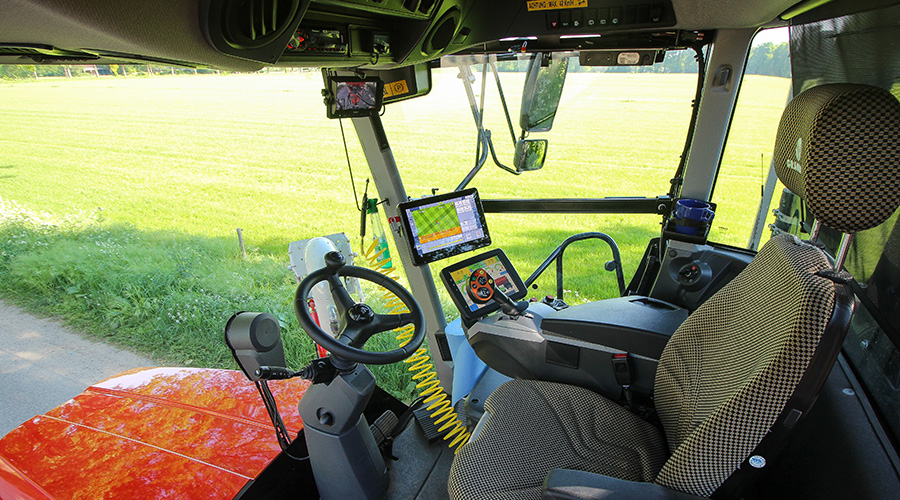 The Hydro Trike gives us a 50% capacity gain on a tractor trailer combination
We've been injecting for five years now and have been active in manure distribution for seven years. Five years ago, we invested in a Vervaet Hydro Trike and we recently switched to a Vervaet Hydro Trike XL,which lowers soil pressure by another 20%. This works perfectly because of the flexible shaft and because we drive at a width of 4.5 meters, only passing the soil once with the one-wheel-per-track principle.
Another advantage of the machine is that we can continue pumping on the headland. This gives us a 50% capacity gain on a tractor trailer combination, which we also use in our company. We see daily differences in the number of cubic meters.
Cedrik de Bruyne – De Bruyne Agro BVBA
Engine and drive
Manoeuvrable, strong and clever
High-tech as well as simple
Reliability is what counts when a lot of work must be done in a short amount of time. This applies in particular to manure application. That's why Vervaet opts for reliable quality components and parts, such as DAF PACCAR diesel engines. In the Hydro Trike, this is a 530 hp six-cylinder diesel engine which delivers its maximum capacity and torque at less than 1,400 t/min. Often, 1,250 t/min are enough to be able to get the job done.
Vervaet is also committed to quality in terms of hydraulics, offering two adjustable Sauer-Danfoss pumps for the hydraulic drive. The rear axle drive is a combination of a large hydraulic engine with a mechanical cardan shaft for optimal traction. The manure pump is hydraulically driven, making it precisely adjustable.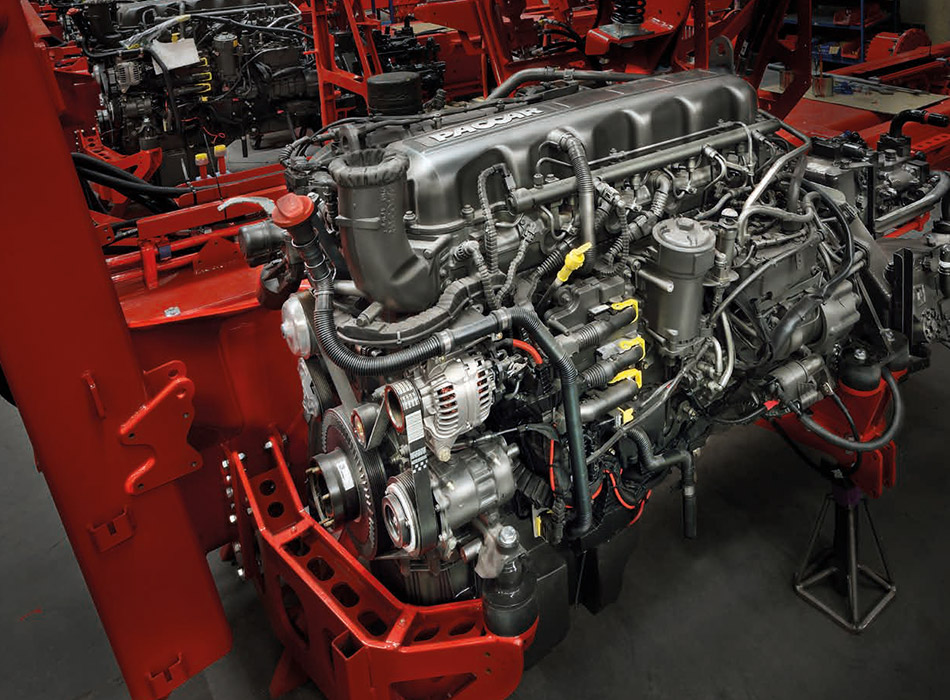 The right nutrients in the right place
An example of the innovative strength of Vervaet and its partners is Vervaet's 2016 world exclusive – a fertilising machine which dispenses the right nutrients in precisely the right location. Fertilising in cubic metres per hectare has been replaced by kilograms of nitrogen or phosphate per hectare, in a location-specific manner. This is possible thanks to the near-infrared (NIR) sensor which varies manure delivery based on the composition of the slurry. Fully automated – you don't have to do a thing!
And via the Vervaet Smartbox, you can connect virtually any GPS system to the Hydro Trike's Isobus compatible section switch for ultimate flexibility. This prevents overlap and helps your customers remain inside the spreading area.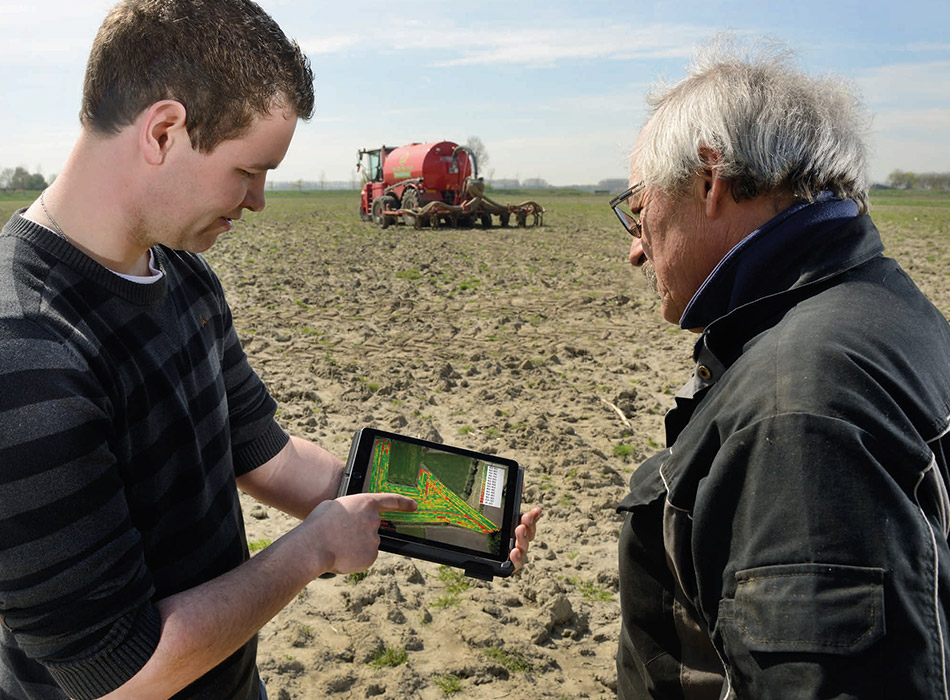 Proven and reliable
For a fertilising machine, nothing is as important as manure transport. A continuous cycle of extracting, cutting, pressing, pumping and applying – often 24 hours a day. At Vervaet, you can rely on a tried and tested, reliable manure system that has its roots back in 1990. This includes the cyclone cutting mechanism developed in collaboration with contract workers and which offers capacity, simplicity and ease of use.
Because the cyclone cutting mechanism is located behind the manure pump, there is minimal resistance on the suction side of the manure pump. The manure pump continues operating during manure spreading, switching to circulation on the headland, with the fertilising unit raised. During circulation, the cutting device is continually cleaned to prevent blockages. As a result of circulation, manure reaches the crops and soil on time when the fertilising unit is lowered.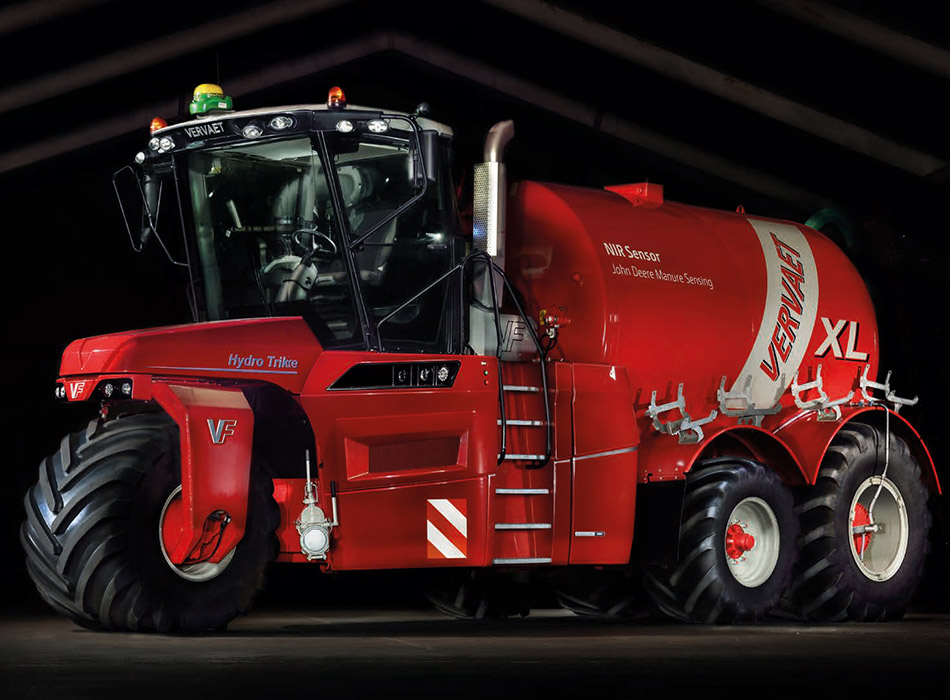 Discover the market leader
Specialised maintenance professionals are ready to help you!
When you invest in the Hydro Trike, you not only receive its performance. You will also receive a team focusing on keeping your fertilising machine running. Professionally trained engineers know every detail of your machine and can quickly address any problem. Because of the machine's standard diagnostics system, 95% of the problems can be solved by telephone. This saves both you and us a lot of time and money.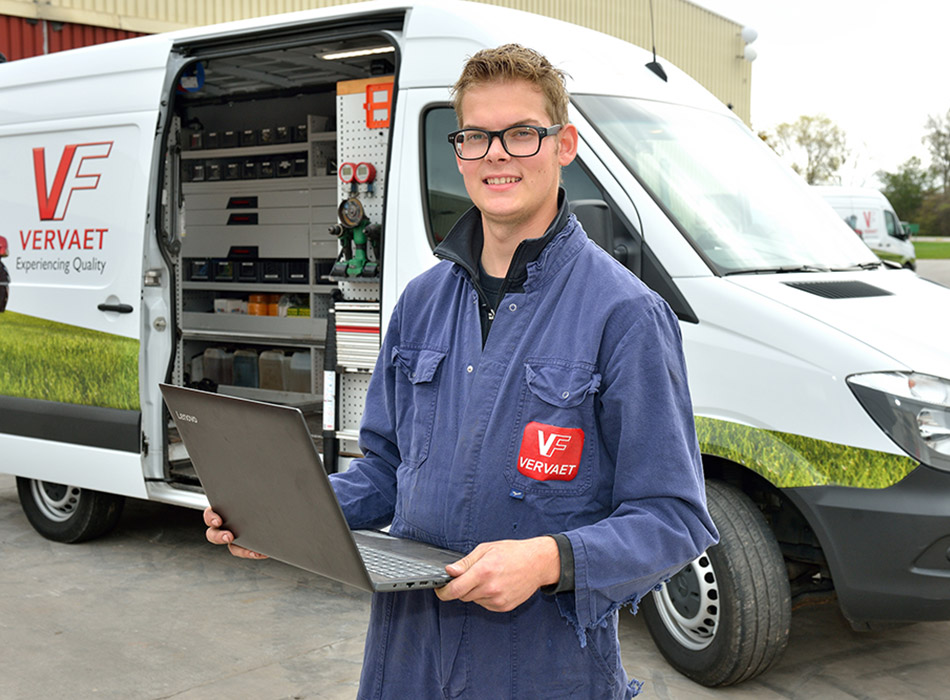 Hydro Trike & Hydro Trike XL
Specifications