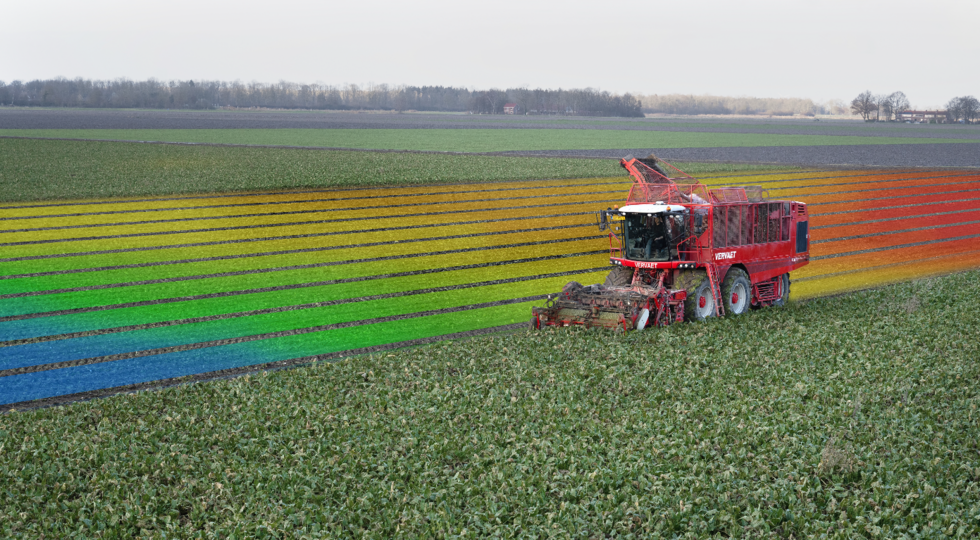 Vervaet introduces Vervaet Connect.
January 12, 2022
Vervaet introduces Vervaet Connect.
Vervaet machines produced from 2022 onwards are standard equipped with the basic Vervaet Connect system. Sensors collect data on machine performance and operation, which are automatically transmitted and presented in real-time through a new online portal called MyVervaet (www.my.vervaet.nl). Both current and historical machine data can be accessed from any location through this user-friendly platform, and thanks to its high level of compatibility, the information can be shared with and exported to many other popular systems (John Deere, Dacom, Agrarmonitor and more), further increasing its value.
The information displayed is comprehensive and includes, but is not limited to:
- Real-time tracking of the machine
- The operational status of the machine, including speed, engine power, fuel consumption and acres worked
- The current settings and parameters with a live view of the screens in the cab
- Service information such as fuel tank level and hours worked
- Any warnings in case of problems or error codes
- The historical data of work previously done by the machine
- If specified (for harvesters), yield maps with collected harvest data displayed on a field map
- The application maps and total volume applied (for Hydro Trike and Quad)
The benefits of the system are far-reaching. The owner can see all the information at any time, which makes management easier. This is an even greater advantage when he works with several Vervaet products. Thanks to the log of previous operations, parameters such as fuel consumption and performance can be analyzed and compared, and improved where possible, increasing efficiency and reducing costs. Machine owners also benefit from the detailed information, such as the ability to instantly see how much fuel has been consumed in a particular field.
Service and maintenance management is also streamlined: Any error messages can be followed up directly online by Vervaet's service team, from Biervliet. Warnings about any errors or problems are signaled on the MyVervaet portal. This is visible to the client, dealer and manufacturer. It is also possible to install software updates wirelessly, thus reducing machine downtime.
The precision farming elements of the Vervaet Connect offer growers significant advantages in maximizing yields. Thanks to the system's compatibility with other platforms, the data can be particularly useful when other advanced farming techniques are already in place. The growing number of export countries where the Vervaet machines are sold are thus no obstacle in providing optimal customer support and service.
For the Vervaet Hydro Trike and Quad 550, the system creates application maps in the MyVervaet portal, showing the amount of slurry applied on each field. This allows fertilization to be optimized and also to record very accurately what has been applied where, possibly supplemented with NPK data obtained via NIR sensor.
Although yield mapping is a more common phenomenon in crops, it was generally not possible for root crops. Yield mapping has now been tested on Vervaet beet harvesters and is highly appreciated by users. The optional integrated function presents the yield maps automatically in MyVervaet. This can be transferred to the customer, together with the total harvested tonnage and other important information.
"We believe the Vervaet Connect system offers benefits to all parties involved, from the contractor to the grower," says Daan van de Velde, marketing manager at Frans Vervaet BV. "Farmers can use data from the Vervaet Connect system to optimize their yields and reduce their costs, and time is also saved during maintenance and diagnostic activities. Our main objective is and will remain to provide the best possible support to our industry, and this is achieved when everyone works together - we believe that you shouldn't be afraid of collaboration. Therefore, the information generated by Vervaet Connect can be shared with other systems to realize the greatest potential for the end user and improve the development and progress of our sector."
"It all benefits efficiency," says Jonathan Hoekman. "There's a real benefit from a service point of view, with the ability to diagnose potential problems or help customers remotely set up machines. The ability to perform things like software updates wirelessly also means that our service team may spend less time traveling, which will save the customer money in practice. Another benefit is that the system is fully customized for our machines, so it's tailored to the specific requirements of the harvesters and slurry spreaders and we were able to specify how we wanted to view the data."